---
Paint Protection Film (PPF) Installation
---
Keep Your Car's Finish in Good Condition with Quality Paint Protection Film in UT
---
---
Keep your cars paint finish looking new with the use of high quality paint protection from Tint Specialists. Our clear paint protection film in SLC, UT, protects your car from scrapes and scratches.
Your car's finish doesn't stand a chance against road debris, inclement weather, and acidic substances. Clear Automotive Paint Protection film is designed to create a virtually undetectable barrier between your automobile and nature. Our clear paint protection in SLC serves as a barrier against external elements. Rocks are rejected. Bugs bounce off. Chipped paint is a thing of the past. Prolong your investment, beauty and integrity of your vehicle with the easy solution that Motor Trend Magazine calls,"…the best product you have never seen…"
---
---
Vehicle films protect your vehicles from the elements
We address all your car paint protection needs in SLC, UT. Tint Specialists Window Tinting offers two options for Clear Automotive Paint Protection on your vehicle; we install computer designed patterns or in-house custom installations for seamless application.
---
Tint Specialists Paint Protection Packages
In the State of Utah, paint protection films protect your vehicles from the elements. Give your car's finish a fighting chance with our clear protection films in SLC, UT.
Tint Specialists paint protection specialists offers many different coverage packages. We can do your hood, fender and mirrors. The most popular package has partial hood, fender, mirrors, lights and front bumper. We also can do your full hood and fender as well. Additional areas could include rocker panels, door edge guards, door cups, luggage area and any thing else you may want. We use a state of the art plotter to computer cut over 12,000 unique vehicle patterns. We specialize in motorcycles, RV's and difficult installations. We also can create custom fit applications for collector, exotic and modified vehicles. So whether you're in Salt Lake City or any of the surrounding areas we can help protect your valued investment.
---
Basic
Both mirrors and first 20" of hood and fenders
Lamp packages available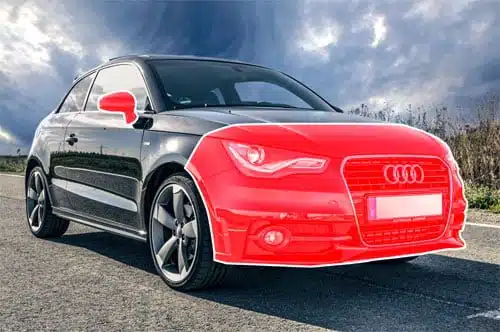 ---
Standard
First 20" of hood, fenders, lamps, mirrors and bumper
---
Pro
Entire coverage of hood, fenders, lamps, mirrors and bumper
Additional Options
| | |
| --- | --- |
| Rocker Panels | Call Us! |
| Top of Rear Bumper | Call Us! |
| Windshield Top & Sides | Call Us! |
| Door Handle Cups | Call Us! |
---
Request an Auto Tint/Clear Bra Quote
---
Professional Installers And Installation
Apart from quality clear car paint protection films, we provide top-notch installation services. Our installers at Tint Specialists have more than 50 years combined experience. The owner is involved in the actual installation of almost every vehicle we do. All our installers are factory trained and certified, so you will get the highest quality installation available. Installers wear lint-free clothing and wash their hands regularly to minimize the potential for contaminates under the film. Work areas are kept clean and prepped for installation of window film on a daily basis. Our mounting solution is prepared with a commerical ionized filteration system to prevent impurities. We ensure that your car's electronic components are protected by using drop cloths and moisture resistant barriers when applying the window film. We then wipe down and clean all areas of the vehicle that might have gotten wet during the window tinting process. These things are what separate Tint Specialists from other window tinting companies. We go the extra mile for you our customer.
---
How does Paint Protection Film or PPF work?
Originally coined the 'Clear Bra' by the 3M Corporation, it is also known as Paint Protection Film, Clear Mask, Clear Shield, Invisible Shield, Invisible bra, Inviza Bra, XPEL or Stone Shield. Paint Protection Film (PPF) is an impact resistant, eight mil (.008") clear urethane plastic. Which utilizes a clear-coat finish to maximize the glossy finish of modern vehicles. Tint Specialists uses a Paint Protection Film that acts like a "bra" for your car. Our pain protection bra's are composed of a self-annealing outer layer combined with an energy-absorbing adhesive under layer. This modern technology creates a trampoline effect against rock chips - an owner's greatest worry. PPF provides a discrete barrier that is guaranteed not to bubble, crack, peel, or stain yellow.